Sequence Ontology Immunology Workshop
Focusing on Gene, Allele, HLA, and More.
University of Utah, Salt Lake City, UT
June 12-13th, 2007
Workshop Aim
The aim of this workshop is to better represent immunological features in the Sequence Ontology. We will define what the key concepts are, what they are composed of and how they relate to other biological sequences.
Each session will begin with a brief outline of where are with the ontology development for that particular issue. We will then engage in discussion with the domain experts to elucidate the key terms and define where they belong in the taxonomy and what relationships they have to other terms. Attendees will each have the opportunity to voice their views and drive the ontology development. As the discussion progresses we will edit the ontology to reflect the consensus opinion.
Key issues:
HLA
haplotypes
alleles of the gene types

hierarchy of alleles
features of the sequence
function
Workshop Attendees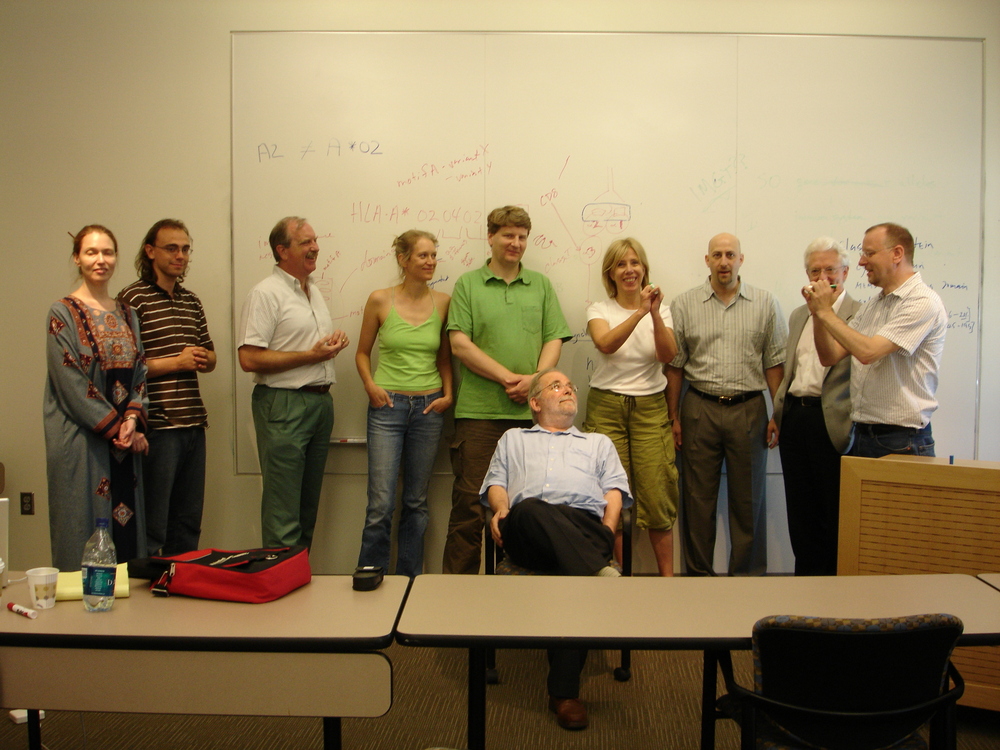 Pictured from left to right:
Lindsay Cowell, David DeLuca, Richard Scheuermann, Karen Eilbeck, Alexander Diehl, Michael Ashburner, Suzanna Lewis, Darren Natale, Barry Smith and Steve Marsh
Attendees List:
Lindsay Cowell, Duke (Lindsay will talk about VDJ recombination)
Alex Diehl, JAX
Barry Smith, SUNY - Buffalo
Darren Natale, Georgetown (Darren will talk about PIR (SMAD))
Michael Ashburner, University of Cambridge
Chris Mungall, LBNL
David DeLuca, Hannover
Steve Marsh, Anothony Nolan Research Institute - London
Talks:
Meeting Notes including action items and changes to ontology (PDF)
Link to updated Ontology (CVS)
Workshop Organizers:
Karen Eilbeck, University of Utah
Suzanna Lewis, Lawrence Berkerley National Labs
Richard Scheuermann, UT Southwestern
Workshop location and travel details
Airport shuttle - When we know when you are arriving, we will try and arrange shuttles to pick up groups of people arriving at the same time.
Expenses
We have some funds to help with the cost of attending this meeting.